Our Mission
To develop an interest in mathematics, increase college readiness, and promote successful future careers for children from kindergarten to 12th grade who lack educational opportunities and resources.
Our Programs
a. On-site tutoring: Students from K to 12th grade attend weekly, two-hour math classes at local branches, most located within public libraries and community centers. Most volunteer tutors are college and high school students and engineers from local industries.
b. Online tutoring: Our organization has provided online one-on-one tutoring with students in remote areas where it can be difficult to access knowledgeable math tutors since 2018, and during the pandemic, we adopted a completely online tutoring schedule. Since Fall of 2022, we began resuming in-person tutoring sessions with online in parallel.
c. SAT Prep Camp: This is an intensive SAT preparation course held during summer break. Classes run 2 hours per day from Monday to Friday for 4 weeks in July.
d. College scholarships: We have awarded $30,000 in scholarships to 60 students annually before the pandemic to encourage our students to attend college for future career development. We deposit the scholarship awards into a 529 college fund designated for the student, and the money is released only when the student matriculates into a college. We plan to resume the scholarship event in 2023.
Enrollment
551 students and 350 tutors participated in online and in-person classes in 2022. We have had about 400 weekly sign-ups for the online class. One of our largest sources of volunteers come from the University of Texas at Dallas (UTD). With its student body of 9,100, we anticipate seeing more college volunteers from the school, many of whom will participate in our program to fulfill their requirements.
2023 SAT Prep Camp Instructors
This summer's volunteer instructors are devoted to working together with the students to prepare them for the SAT. Leah Sullivan, a sophomore Eugene McDermott Scholar majoring in Data Science at the University of Texas at Dallas, will teach the language portion of the exam. Leah is currently the Vice President of Student Government at UTD.
Isaac Brooks, a recent computer engineering graduate at UT Dallas, will teach the math portion of the exam. Isaac has been organizing the IntelliChoice SAT program for the last two summers and has experience with high school/college level mathematics and engineering tutoring. Both are high-achieving students at UTD with experience tutoring primary and secondary school students, and they are excited for this opportunity to help students build the confidence and skills necessary to take on the SAT.
2022 Donations
Total Donations: $59,370.80
$10,000: Gil Sik Lee
$8,000: Overseas Koreans Foundation
$5,000: Bank of Hope, Wyn Laidig
$2,500 – $4,999: Open Bank, New Song Church, Byung Joo Lee, Byung Woo Lee
$1,000 – $2,499: Ho Sung Cha, Yang Ho Kim, Smoothie King, Susan Boyle, Yun Won Kim, Damion Kistler, Heungsik Kim, Kyung Kyu Kim, ARI
$500 – $999: William Coco, Texas Instruments, Song Il Pak, Gregory Marchiafava, Bilal Akin, Kyungeun Kim, Myungkee Sung, Jaesung Ryu, Kwi Hyun Yoon,
$250 – $499: Ilmac Mission Foundation, Joo Dong Lee, Gabriel Barna
$100 – $249: Anil Bhatia, Sung Tae Kim, Ericsson, Joon Won Park, Hyun Joo Nam, Wooram Park, Woo Yeol Choi, Chadwin Young, Kamran Kiasaleh, Haeja Seo, Sangwoo Kim, Abhay Sawant, Pearl Gutierrez
Thank you to all of our donors!
Student Organization
There are several Intellichoice high school and university student chapters located on campuses at UT Dallas, West Plano High, Coppell High, TAMS, St. Mark's, SEM, TAG, Hebron High, and Hockaday chapters. These student organizations have been developing their leadership, volunteering as a team, recruiting new volunteers from school, and supporting each branch. This group effort helps retain and develop student tutors.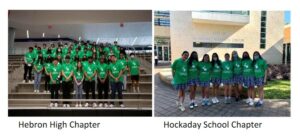 Online Registration
We have moved to an online system for all student and volunteer registration. Sign up here! 
Weekly Sign-Up
 We have started weekly sign-ups each month to know how many students and tutors will be participating in in-person and online classes.
In-Person Classes Return
From 2020 to the Spring 2022, we were able to adapt to mandated health guidelines and expand our face-to-face online tutoring. However, since Fall of 2022, we were able to resume classes in-person and online in parallel.
Dr. Rashaunda Henderson
An education advisor and branch manager at Intellichoice and a professor in the Department of Electrical and Computer Engineering at the University of Texas at Dallas, was elected IEEE MTT-S President. Congratulations!
Nashville Branch
Initially opening as a fully online branch in December 2021, the Nashville branch opened its doors for its first in-person class in January 2023. 56 students and 16 tutors attended that first class. There are two branch managers: Dr. Gashaw Bekele, who is a Professor at Tennessee State University in Nashville, and Dr. Hyeyoung Kim, who is a Professor at Vanderbilt University. Dr. Bekele manages the students and Dr. Kim manages over the tutors.
Richardson Branch
Opened in February 2023 at the Richardson Public Library in Richardson, TX, managed by Dr. Akin, a Professor of Electrical and Computer Engineering at UT Dallas. Dr. Akin received his Ph.D. degree in electrical engineering from Texas A&M University, College Station, TX in 2007. Since 2012, he has been with The University of Texas at Dallas as faculty. Dr. Akin is a recipient of numerous awards, including the NSF CAREER'15 award, IEEE IAS Transactions 1st Place Prize Paper Award, Top Editors Recognition Award from IEEE TVT Society, two Jonsson School Faculty Research Awards and a Jonsson School Faculty Teaching Award. Dr Akin has been named IEEE Fellow in 2023.
Engineering School of University of Texas at Dallas has covered Intellichoice
summer SAT program
Read more about our SAT program here.
Our twin students, Tiobsta and Soliana Ayele
have received a scholarship of $86,721 per year per student for 4 years from Northwestern University in Chicago. Our hope is to help every student succeed as they have.
College-admitted students received IntelliChoice scholarship awards
We deposit the money into a 529 college fund designated for these hardworking students; the money is released only when the student matriculates into a college. The purpose of this scholarship is to encourage our students to attend college for future career development.
Tiobsta Ayele – Northwestern University – $573
Soliana Ayele – Northwestern University – $573
Qiana Johnson – North Central Texas College – $2,638
Briana Arias – UT Arlington – $1,277
Caleb Fana – Collin College -$681
Lulya Habteab – Texas Woman's University – $604
Megan Gibson – North Central Texas College – $1,209
Azizah Norova – UT Austin – $1,277
Danny Yosief – UT Austin – $573
Kennedy Govan – North Central Texas College – $2,517
Jaide Rodriguez – Collin College – $571

IntelliChoice, Inc.
PO Box 796052, Dallas, TX 75379

Board Members
Dr. Gil Lee (Professor of Electrical and Computer Engineering at the University of Texas at Dallas)
Mr. Abhay Sawant (Entrepreneur and investor)
Dr. Dan Heitjan (Professor and Chair of Statistical Sciences at Southern Methodist University,
Professor of Population & Data Sciences at UT Southwestern Medical School, and Director of
the SMU/UTSW PhD program in Biostatistics. Fellows of the American Statistical Association,
Mathematical Statistics, and Society for Clinical Trials)
IntelliChoice is a non-profit, 501(c)(3) organization registered in the state of Texas. EIN: 30-0282507